International Transport
In international transport, ICOM transport a.s. provides services to a broad spectrum of customers in the CR and EU using exclusively Mercedes-Benz trailers that meet the strictest ecological EURO 6 standards. For transporting cargo, the company uses tarpauling semi-trailers and tandem sets with a capacity of 100 m³ and 120 m³.
Our trucks forward cargo to all EU countries, but primarily to:
In international road transport we use exclusively our own vehicles. Our drivers are professionals with many years of experience and regular upgrading training.
The planning of transports and time scheduling is handled by dispatchers who also speak English and German. Each dispatcher is assigned to a specific customer to who he is always available.
Our dispatchers use a state-of-the-art computer system for planning transports, whereby all vehicles are interconnected on-line so that the dispatchers, drivers and customers have timely tracking information available at any time.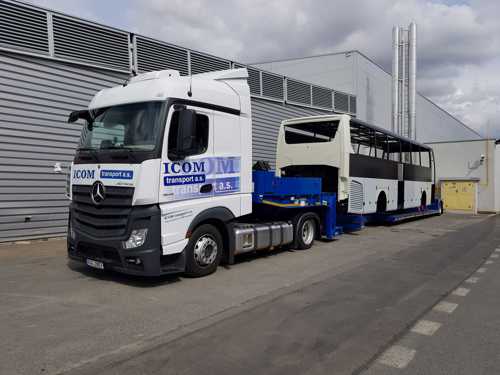 Our company owns special trailers that are tailored according to our customers' requirements. For example, we can transport bus structures or specific components or non-standard dimensions.
Domestic truck transport
Tel.: +420 567 121 106
International truck transport
Tel.: +420 565 519 135