Mercedes-Benz service for tires and wheels
Comfortable and safe change and storage of tires and wheels – all that thanks to top-quality Mercedes-Benz services.
Take advantage of our professional tires and wheels services. Whenever you need a professional change and storage of wheels, our Mercedes-Benz service for tires and wheels will have a reliable solution for you and carry out all the necessary work in the usual quality at our Mercedes-Benz service.
Principal benefits of our all-in services
Reliable quality and professional service directly from the manufacturer to save your time, space and money.
High quality, original, complete Mercedes-Benz wheel sets and accurately fitting tires.
Warranty on tires or tire-wheel sets – according to our conditions.
Make use of our tire services- out assortment of tires brands covers all applications and tasks – from long-distance transport vehicles and delivery vehicles to tires for sports vehicles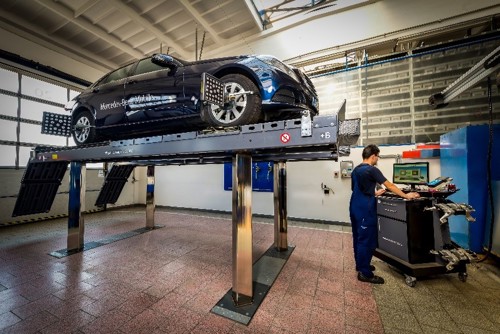 Opening hours
MON - FRI: 6:00 AM- 10:00 PM
SAT: 8:00 AM- 1:00 PM
SUN: CLOSED
Contact:
Mobile: +420 606 723 539
Phone: +420 567 121 268
Email: mbservis@icomtransport.cz
ICOM transport a.s. company premises
Jiráskova 1424/78,
586 01 Jihlava
Phone: +420 567 121 268
Mobile: +420 727 890 120