TRADO-BUS
TRADO-BUS, s.r.o. was established by transformation of a former company ČSAD Třebíč.  In 1997, the company acquired a majority stake in this company and has been a member of the group ever since. The company operates in Třebíč, Moravské Budějovice, Náměšti nad Oslavou and Rosice u Brna. In 2023, TRADO-BUS s.r.o. will acquire 42 new Mercedes-Benz vehicles.
In 2001, the corporation ICOM transport a.s., which TRADO-BUS is a part of, received the ISO 9001:2000 certificate. The certificate has been regularly renewed, most recently in 2021 as ISO 9001:2015 certificate  that includes the activity of "International and domestic road transport using own vehicles, including transport according to ADR and ATP regulations, service and repair of Mercedes-Benz vehicles, and operation of regular public transportation, city bus transportation and chartered tour transportation by own vehicles."
For more information about the ICOM transport group, visit this website.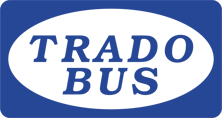 Main activities
OPERATION OF PUBLIC BUS TRANSPORTATION LINES:
The company operates 50 lines using 99 modern Mercedes-Benz buses. Most of the lines serve passengers in the Vysočina Region, but also a part of the South Moravian Region.
Our long-distance lines reach as far as Prague