Services
ICOM transport a.s. offers its customers comprehensive services related to the operation of their vehicle fleets in the area of vehicle maintenance, vehicle repair and refueling. Thanks to the company´s well- trained employees and effective handling of spare parts logistics, we will take care of your needs quickly and professionally.
Give your vehicle an elegant look! You can customize your vehicle through excellent comfort details and practical solutions that improve its appearance and safety. the range of available original Mercedes-Benz accessories is broad and provides enough options to fulfill your wishes. all the accessories are economical and safe to use, tested and approved by Mercedes-Benz companies and offered in the Mercedes-Benz quality at attractive prices.
As the first authorized Mercedes-Benz service in the Highland (Vysočina), we not only have many years of practical experience, but also offer our highly professional approach and friendly attitude to customers.
Thanks to our very long opening hours, we are able to provide you with our professional support in all issues you have to deal with when purchasing a vehicle, such as financing, insurance, workshop services and procurement of original spare parts from Mercedes-Benz and Mercedes‑Benz Collection.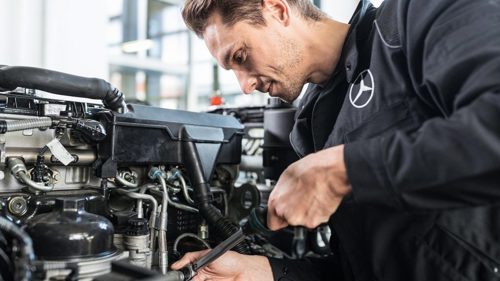 Overview of services
Authorized service of Mercedes-Benz passenger cars
Authorized service of commercial vehicles, trailers and buses
Authorized service of Mercedes-Benz, Setra and Mitsubishi commercial vehicles
Provision of a substitute vehicles for the duration of the repair
Authorized service of Schmitz trailers
Professional 24h service 
We also provide:
post-warranty service and repair of Mercedes-Benz passenger cars
warranty and post-warranty service of Mercedes-Benz commercial vehicles, trucks and buses
Other services:
sale of original spare parts for Mercedes-Benz
expert service of Wabco and Knorr pressurized systems
metrological center for emission measuring and tachograph verification
NON-STOP 24H service
24/7 towing service
assembly and service of Toll Collect
car wash
fuel filling / gas stations
other
No YouTube code was found in the defined link.