ČSAD Ústí nad Orlicí
ČSAD Ústí nad Orlicí, a.s. was established in 1994 by privatization of the company ČSAD Hradec Králové, s.p.  In 2000, the company acquired a majority stake in this company and has been a member of the group ever since. The company conducts operations in Ústí nad Orlicí, Jevíčko, Rychnov nad Kněžnou, Boskovice and Slavkov u Brna.
In 2001, the corporation ICOM transport a.s., which ČSAD Ústí nad Orlicí is a part of, received the ISO 9001:2000 certificate. The certificate has been regularly renewed, most recently in 2021 as an updated ISO 9001:2015 certificate that includes the activity of "International and domestic road transport using own vehicles, including transport according to ADR and ATP regulations, service and repair of Mercedes-Benz vehicles, and operation of regular public transportation, city bus transportation and chartered tour transportation by own vehicles."
For more information on the ICOM transport group, visit this website.
Upgrading of our employees' education is subsidized by the European Union: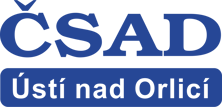 Main activities
OPERATION OF PUBLIC BUS TRANSPORTATION LINES:
As part of regular bus transportation, we operate 119 modern Mercedes-Benz buses , mostly on the lines operated in the South Moravian Region.
A major renewal of our transport means occurred in 2021, in which we acquired a total of 55 low-floor SETRA 415 LE buses that meet the strictest emission limits EURO 6.
In 2022, we acquired additional 9 low-floor Setra 418 LE buses.