Irregular bus and tour transportation
Irregular bus and tour transportation
As part of our tour transportation services, we offer comfort and safety in the MOST MODERN BUSES. Of course, our experienced, helpful and friendly  drivers and the latest technology guarantee a safe ride and above all the satisfaction of our customers. Make use of our services for tours, schools trips, employee pick-ups or alternative transport solutions.
Thanks to our high-quality vehicle fleet set aside for the purposes of chartered transportation, we can accommodate every customer in terms of size and reliability. We are able to respond to last-minute requests. Our drivers, both in truck and bus transport, are obliged to adhere to prescribed schedules, including safety breaks. They are therefore not prone to fatigue caused by overworking due to non-compliance with the relevant regulations. MERCEDES-BENZ INTOURO
tour bus
49 seats
air-conditioning
luggage space: 6 m³
meets ecological standards EURO 6
Contact us! We believe that we can fulfill your ideas and requirements. You are bound to enjoy the superior quality and favorable prices we offer.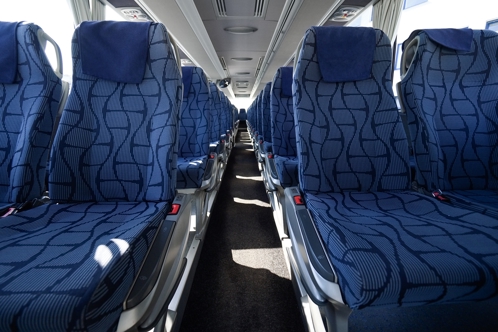 Contacts for ordering chartered tour bus transportation: