Payment card and electronic wallet
Electronic payment cards for ČSAD Jindřichův Hradec
We offer passengers payment of bus tickets without cash in the buses of ČSAD Jindřichův Hradec s.r.o.  using a payment card. Passengers has a choice of two payment card variants.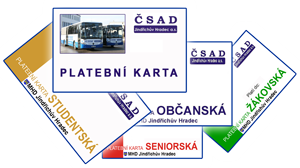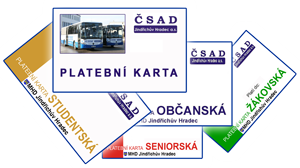 Portable electronic wallet (no photo)
Deposit funds (credit) on the so-called electronic wallet and use it for fare payment.
Advantages of electronic wallets:
simple handling
accelerated check-in
the price is mere CZK 100 (including VAT)
if the car dis lost, you may block it and transfer the remaining balance on a new card
there is no need to carry cash, because the funds are deposited on the card
the deposit on the car dis not time-limited
can be used for paying any time
may be used by several persons concurrently
the card can be recharged at the driver´s place or in information offices
Personal (with holder´s photo)
It functions as the electronic wallet, but it also allows you to put a time coupon on it (monthly, quarterly, annual) that can be used on the lines of MHD Jindřichův Hradec and the lines belonging to the IDS JH zone. You can find the prices of time-limited coupons in our current price list.
How to get a payment card:
The cards are produced, while waiting, at the Information office of ČSAD Jindřichův Hradec s.r.o. upon presentation of a filled-out application and the documents required for the specific type of card.
Payments cards issued by ČSAD Jindřichův Hradec s.r.o. can only be used on lines and connections operated by ČSAD Jindřichův Hradec s.r.o.